Clothes are often left as the last things we pack when moving and it can be tempting to just toss everything into a box or bag. Although clothes are not technically considered as "fragile" items, careless packing can make them vulnerable to damages such as rips, tears and dirt. Ensuring your clothes are properly packed and handled will help to prevent damages as well as allow for a smoother and efficient unpacking process at your new place. Read on to find out the best way to pack clothes when moving.
The Best Way to Pack Clothes for Moving Starts With a Purge
It may sound obvious but you would be surprised by how many articles of clothing people hang onto "just in case". Moving provides the opportunity to downsize, purge and get rid of any clothing that no longer serves you. Here are some things to ask yourself when deciding whether to keep or toss that piece of clothing.
What is the condition of the item? If the item is worn out and holding onto its last piece of thread or out-of-style, it's time to say  "goodbye".

How often do you wear it? If you can't remember the last time you wore it, get rid of it.

Are the clothes too big or small? If it doesn't fit, there is no reason to keep it.

Are you moving to a completely different climate? If you are moving from a cold location to the tropics, ditch those jumpers and sweaters (and vice versa).
Once you have decided which articles of clothing to purge, consider using these options to get rid of them responsibly:
Gift them

– Although some of the clothes may not suit you, they may look great on a family member or friend.

Sell them

– Use this as an opportunity to earn some small change to help fund your move. Sell your unwanted clothing on marketplace apps and websites such as

Facebook Marketplace

,

LetGo

,

Nextdoor

, and

OfferUp

Donate them

– Contribute back to the community and help those in need by sending your unwanted clothing to a charity or thrift store. Donating to your local

Goodwill

is a great option.
How to Choose the Right Supplies to Pack Clothes When Moving
There is no one-size-fits-all rule when it comes to choosing supplies and materials to pack your clothes. Using the right material depends on the type of clothes. Here are some guidelines on what to use when packing different types of clothes for moving:
Cardboard boxes:

These are ideal for packing folded clothing or shoes. Consider using bigger boxes to pack bulky articles (such as sweaters and jackets), but be careful not to overpack as heavy large boxes can be difficult to carry and move. Smaller boxes can be used for smaller or heavier items such as scarves, socks, shirts, shoes and handbags.

Wardrobe boxes:

These are especially useful for packing hanging clothes such as suits and formal dresses.

Suitcases and duffel bags:

These are great alternatives to cardboard boxes for packing folded clothes and shoes.

Dresser drawers:

Leaving your clothes in your drawers is a great strategy if you are hiring movers. Moving companies will have the necessary equipment to lift heavy items including full dressers – just remember to tape your drawers closed so that its content does not fall out during the move.

Vacuum bags:

These provide a great way to condense bulky clothing (such as jackets and coats) and save space. They can also be used to pack off-season clothes as you won't need access to them straight away at your destination, keeping them clean and safe during the move.
Best Way to Fold Clothes When Moving
Clothing that isn't moved on a hanger will need to be folded and packed inside a cardboard box or suitcase. Your folded clothing could also be packed inside your dresser drawers, saving you money on purchasing additional moving boxes. 
There are many ways to fold clothes but the best way to fold clothes for a move is one that saves space and minimizes the number of boxes or suitcases you'll need. Here are two common clothes packing techniques to try:
The flat fold method
Folding clothes is the most common method used to pack clothes for moving. The flat fold method has also gained popularity in recent years, thanks to Marie Kondo's folding technique (The KonMari Fold). The technique gets your items down to a minimal size so you can pack and organize the articles of clothing in neat rows. Not only does this help save space, you can also easily see and select clothing from your packing container without disturbing any of the other items.
Lay your clothing item out flat.

Fold one sleeve and a third of the shirt body in toward the middle of the shirt and smooth out the wrinkles.

Repeat for the other sleeve so that the sides of the shirt are parallel to each other (in a rectangle).

Fold up the neckline to 1-2 inches away from the hem.

Fold the item in half (or thirds).

Place the item standing upright into the packing container
The military roll method
The rolling method is a packing technique used by many travelers and movers for small or delicate articles of clothing such as shirts and dresses. It is an efficient way to maximize storage space and prevent wrinkles.
Lay your clothing item out flat.

Fold the bottom 2-3 inches of the item inside out so that it creates a "pocket" along one side of the clothing.

From the opposite end, roll the item tightly until you reach the pocket.

Secure the rolled item tightly by folding one side of the pocket over the roll.
Best Way to Pack Hanging Clothes When Moving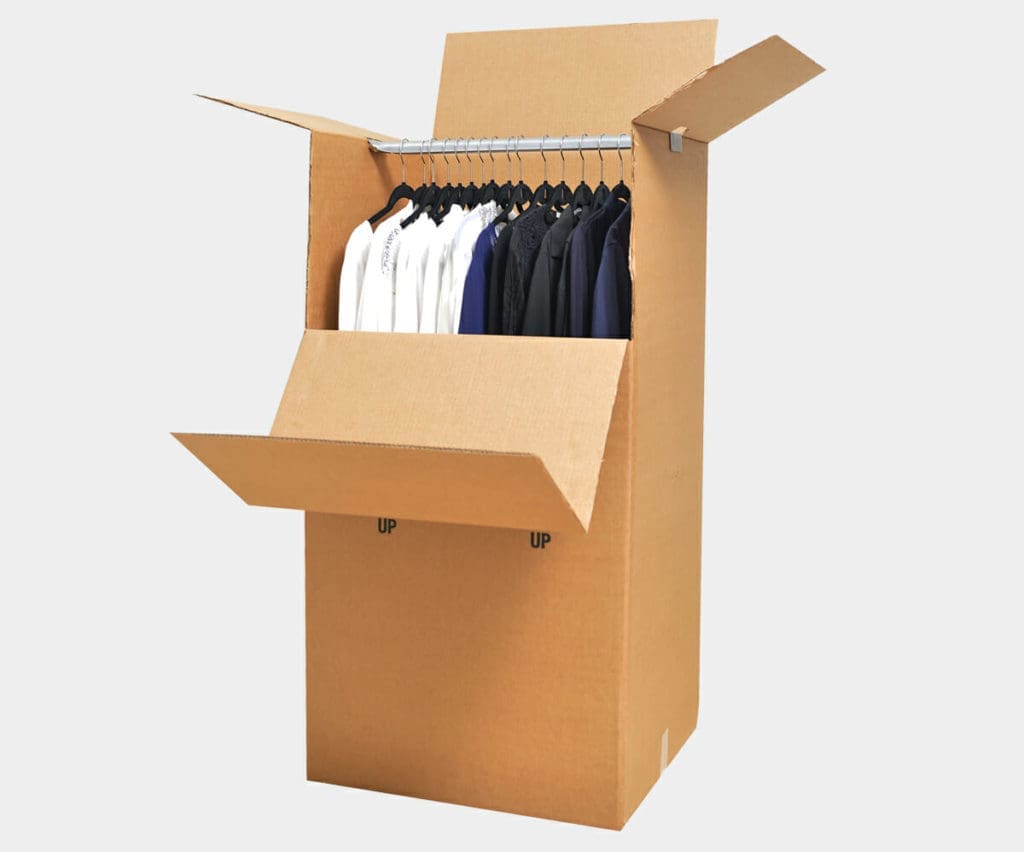 Suits, formal dresses, dress pants and other hanging clothes have their own unique packing challenges. The best way to pack hanging clothes is to keep them on hangers and use wardrobe boxes. Wardrobe boxes are a nifty tool specifically designed for moving hanging clothes. They come with a hanger bar or rack across the top of the box for hanging your hangers on, which helps to minimize the threat of your clothes wrinkling.
If you are looking for a low-budget option, consider using trash bags for packing and moving your hanging clothes. Simply slip your clothes inside the trash bag while holding onto the hangers, and tighten the ends of the trash bag around the hanger hooks by tying the trash bag's drawstrings ends or using elastics if the trash bag does not have drawstrings.
Best Way to Pack Shoes When Moving 
As tempting as it may be, avoid packing your shoes with your clothes in the same containers. Footwear is often soiled and may damage your clothes during the move. It can also cause extra work when unpacking at your new home by having to iron or clean your wrinkled and dirty clothes. The best way to pack shoes when moving is to put them in a separate cardboard box or suitcase. If your shoes have shoeboxes, keep them in their shoebox and stack them into a cardboard box. Alternatively, here is how to stuff and wrap each shoe before packing them into a cardboard box or suitcase:
Fill the shoe with crinkled packing paper to maintain form.

Surround one shoe with a packing-paper sheet.

Roll the second shoe into the same packing-paper sheet

Securely tape the roll close with packing tape.
Hire a Professional Mover to Pack Your Clothes
If packing clothes still seems like an overwhelming task or you are running out of time, hiring a professional mover to take care of the packing might be the best option for you. National Van Lines offers packing services and our moving experts can ensure your belongings are carefully and securely packed for your move. We can also provide full-service moves that cover all your packing, moving and unpacking needs. Contact us for a free moving quote!
We are sorry that this post was not useful for you!
Let us improve this post!
Tell us how we can improve this post?