Creating a moving inventory list can seem like a daunting chore, however, is an indispensable tool to have when preparing for a move. Read on as we share how to easily and effortlessly make an inventory list for your move.
What is a moving inventory list?
A moving inventory list is a document containing an outline of all the items that you will be moving from your old location to the new location. It provides a detailed description of each item including their condition and estimated value.
Why should you create an inventory list when moving?
Although there are some obvious reasons for creating an inventory list for moving, such as staying organized and keeping track of your belongings, you will soon realize there are many benefits. Here are some of the most important reasons on why you should make a moving inventory list:
Get an accurate moving cost estimate.

One of the most significant factors in determining the cost of your move is the weight of your shipment. A home inventory list provides a visual representation of all your belongings, which you can use to easily estimate the total weight of your possessions. Your movers will also be able to use the inventory list to provide an accurate moving quote by correctly evaluating the time required and whether extra services will be necessary to complete the job. If you are planning to pack your own belongings, the inventory list will help you to determine the type and amount of packing supplies you will need to buy.

Reduce clutter and lower moving cost.

Many people often underestimate the amount of things they accumulate over time. A home inventory list will help you to clearly identify what you have and

declutter before the move

. The list allows you to easily identify duplicated, outdated or damaged items that could be donated or thrown out. Reducing the amount of items to move will lower the weight of your shipment, and hence, the less you will have to pay for your move.

Save time during packing and unpacking.

Although creating an inventory list for moving can be time-consuming, it will actually save time and make the moving process a lot more efficient. By using the home inventory list as a comprehensive checklist, you can easily plan and organize which items to pack together, ensure boxes aren't overpacked or too heavy, and record each box's content so that unpacking is a smooth and stress-free process.

Protect your belongings during the move.

A home inventory list provides a reliable way for you and your movers to track the items that were packed at the old location and compare it to those that arrived at the new place. You can also use the inventory list as a ready-made list of possessions to apply for a moving valuation. The inventory list will help to ensure that you obtain sufficient liability coverage, especially for

long-distance moves

. More importantly, the list becomes a vital piece of document when you need to file a claim if items become damaged or lost during the move.
Things to include in a moving inventory list
A good moving inventory list should include the following information:
A clear description of the item, including its current condition

Make, model and serial number (if relevant)

Purchase date and the cost at the time of purchase

Current estimated value of the item

Quantity, if you have multiples of the same item (for example, chairs and books)

Receipt and warranty paperwork

The label of the box in which the item is packed

The room where the item is located at the old location

The room where the item needs to be moved to at the new location
It is likely that you will not have receipts for all your possessions. For general items, such as clothing and kitchenware, you could provide a count. But be sure to clearly highlight any valuable items in your list, such as luxury or expensive dresses and bags. It can also be highly useful to take photographic evidence of your belongings, especially valuable items, as this is often the best way to prove the condition of the item before your move.
How to make a moving inventory list
Although the thought of surveying every item that you own in detail may be daunting, putting together a moving inventory list can be fairly straightforward if you follow a systematic process.
1. Structure your list by room or category
Your list can be simply created by using a pen and paper, a spreadsheet on a laptop, or even an app (see further below for some of our favorite inventory list apps). The most important thing is to clearly structure your list as this will greatly help make your inventory task an easy and efficient exercise.
There are many ways to catalog your items so choose whichever way is easiest for you. The most common way to structure a list is by room or category (groups of items). For example, you may list clothing items on one sheet and furniture on another. Or you may create a separate sheet for each room and list the items contained there.
Once you have decided on how you want to structure your inventory list, create a table and add a column for each of the variables that you will need to capture for each item, such as a description of the item, estimated value, and quantity.
2. Walk through each room, one-by-one
Start by picking a room and making a list of everything in it. Be sure to capture all the items – check inside the drawers and closets, and even small or miscellaneous knick-knacks that might be in plain sight. Once you have completed noting down all the items in the room, continue to the next room.
3. Take photographs or video record your items
Although this is optional, it is highly recommended that you supplement your inventory list with photos or video recordings of all the items in each room. Use a structured naming convention for your photo or video file names so that they can be easily identified. For example, name the file after the name of the item and the room it is in (e.g., livingroom-chairs.jpg). Be sure to save and safely store the photos or video files in a flash drive.
Use a free home inventory app
If being organized is not your forte, here are 3 free home inventory apps that can help simplify the process in just a few clicks.
Sortly
Available on: iOS and Android
Cost: Free (or upgrade to a subscription for more features)
Sortly is a great option if you prefer a simple and no-fuss app. Simply choose a category, snap a photo, provide a detailed description for the item, and you're done. The app also offers the flexibility to group and categorize items using any classification that you may desire.
Nest Egg
Available on: iOS
Cost: Free (or upgrade to a subscription for more features)
If you enjoy using apps with more features, Nest Egg will be a good option for you. Some of its advanced capabilities include a barcode scanner that automatically retrieves product information to help speed-up your inventory process, and a reminder function to help alert you when borrowed items are due to be returned or insurance premiums are payable. The app is also available in 32 languages including Chinese, French, German and Spanish – making it an ideal choice if English is not your first language.
Smart Inventory System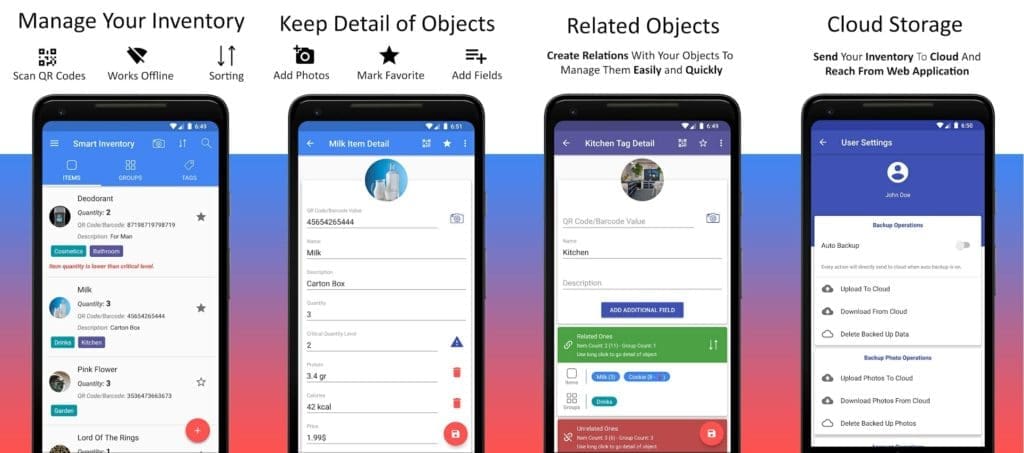 Available on: Android
Cost: Free (or upgrade to premium for more features)
Smart Inventory System provides a quick and easy way to capture your items by scanning barcodes or QR codes. It provides great custom capabilities such as the ability to add custom fields to track unique item attributes. An excellent feature of the Smart Inventory System app is its backup functionality and ability to work offline, so you don't have to worry about losing access to your inventory list when there is no internet connection during the move.
Still not sure where to start? Get in touch with National Van Lines for a free moving quote and tips to help kick-start your moving inventory list. We're here to help!
We are sorry that this post was not useful for you!
Let us improve this post!
Tell us how we can improve this post?