For Immediate Release
Broadview, IL July 1, 2019—All Around Moving & Storage, one of National Van Lines' top-performing interstate-moving agents, is remaining with the National Van Lines family for another decade—a pact strengthening each organization's Detroit-Ann Arbor marketplace position.
A top 10 booker and top 10 hauler for National Van Lines, Romulus, MI-based AAMS has achieved many awards during its first 10 years as a National Van Lines cross-country mover.
"With the help of National Van Lines, our business has more than doubled since 2009," AAMS founder and owner Jim Simpson said. "Our interstate hauling has increased over 400% since we signed and partnered with National Van Lines."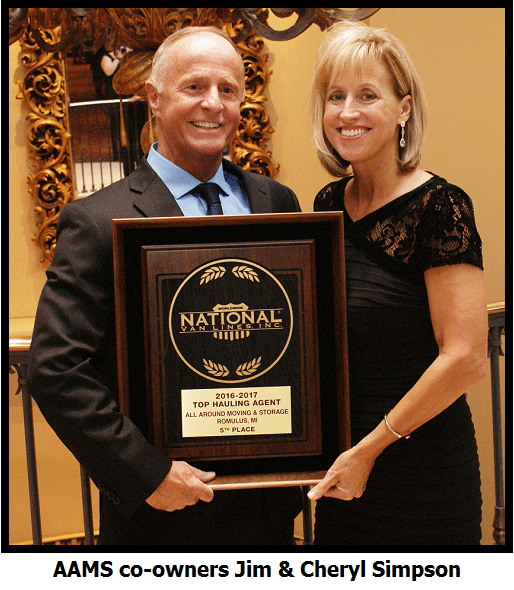 Starting their company in 1984, Jim and co-owner wife Cheryl have emphasized good, old-fashioned customer service from day one. However, the couple knows how to temper tradition with a modern outlook, realizing a decisive internet presence is key to 21st century success. AAMS is an enthusiastic fan of National Van Lines's online-marketing program, which is designed to boost the business of its nationwide network of interstate movers.
"As a boutique mover, we offer quick response time and nimble maneuverability for our customers and our agents," National Van Lines Executive VP Mark Doyle said. "All Around Moving & Storage realizes we're a mid-sized company that makes a huge impact."
"We worked within a larger corporation before signing originally with National Van Lines," Jim said, explaining his reasons for signing another 10-year contract with National Van Lines. "We have always felt like family at National Van Lines and did not want to return to that environment. Being with a smaller carrier, you don't feel like you're just a number."
Jim intends to grow his company and generate new corporate business in the coming decade by relying on National Van Lines support.
"Working with and helping individuals with their relocation projects is what excites me most about the relocation industry," Jim said. "I hope my staff and I can have a positive impact on their lives."
During AAMS' first 10 years with National Van Lines, the Michigan mover has repeatedly received recognition for its superior sales at National Van Lines' biannual conventions, including:
2011—5th Place Sales Achievement
2013—Top 10 Sales Achievement, Top 10 Hauling Revenue
2015—Top 10 Sales Achievement, Top 10 Hauling Revenue
2017—Top 10 Sales Achievement, 5th Place Hauling Revenue
"We look forward to Jim and Cheryl earning many more accolades in the years to come," Mark Doyle said, "and are proud they continue placing their trust in National Van Lines to coordinate their cross-country moves and help grow their business."
About National Van Lines
We make moving easy. Evolving from a circa 1900 Chicago pony-and-wagon operation to a 1929 motorized interstate mover to today's globe-spanning long-distance relocation experts, National Van Lines excels at providing stress-reducing residential/commercial relocation and storage solutions. Whether your move is big or small, we handle it all with nationally recognized customer service, award-winning drivers and unparalleled attention to detail. Our cross-country moving company holds a Better Business Bureau A+ rating.