For many people, moving often means a road trip as it may require moving a vehicle to the new destination. In reality, however, many factors can complicate this process. In particular, when moving long-distance or when there are multiple vehicles to move with only one driver available. It is often best to consider hiring a carrier to help ship your car during these situations. Understanding the different factors that can affect the cost of shipping a car long distance will help you to better budget for your move.
Distance and Mileage
Distance is one of the factors that can have the most significant impact on the cost of shipping a car. The more mileage and further you need to move the car from its point of origin, the higher the cost. This is because long-distance moving a vehicle will incur surcharges such as labor, gas, toll roads, and the cost of overnight trips and the cost of accessing difficult to reach rural areas.
Car Type
The type of vehicle is another factor that affects the cost of car shipping. There are three common elements that carriers consider when it comes to the car type:
Size:

 A compact or small car will require less space in the trailer; hence, it is cheaper to ship than compared to a SUV or van.

Weight:

 A smaller car will also weigh less than a large vehicle, requiring less gas to ship.

Modifications

: A vehicle that has been modified from the factory standard and requires special handling care will increase the cost of shipping the car. For example, if the car has been lifted or lowered, the car will require additional effort from the carrier to adjust the trailer level to suit the non-standard vehicle height.
Type of Car Shipping Method
There are two main methods to ship a car long-distance: open-sided or enclosed trailer. 
The most cost-effective option is to move a car using an open-sided trailer. An open-sided trailer can usually carry up to 10 vehicles in one load by placing the vehicles on a double-decker structured trailer. Since more cars can be shipped simultaneously, the carrier can spread the operational cost, making the shipping cost cheaper and a popular option for most people. However, vehicles that are shipped using an open-sided trailer are exposed to external elements during the move, which means the cars can be more susceptible to damage.
If you need to ship a valuable, luxury or vintage car, using an enclosed trailer to ship your vehicle would be the more appropriate and safer option. Enclosed trailers can protect your car from the outside environmental elements. However, enclosed trailers have less capacity and accommodate fewer vehicles, which means a higher cost required to ship cars.
Popularity of the Route
Road closures, traffic jams, and direct routes can all affect the cost of shipping a car long-distance. Metropolitan areas and cities have more accessible routes and more carriers servicing the area than rural areas or locations far from the interstate. Time is money, so the easier and faster the carrier can ship your car, the less you have to pay. If your car needs to be transported to a difficult location, the carrier will need to drive off the main route to pick-up or drop-off your car, which will require additional fuel.
Seasonality and Timeframe Flexibility
Demand for car shipping typically peaks during summer, which means the cost of car shipping will spike during this time. If you are able to ship your car during off-peak season, the less expensive it will be to transport your car. Carriers can offer more favorable prices when demand is low to attract customers so that their trailers do not stay inactive.
Similarly, the more flexible you are with the pick-up and delivery date, the less car shipping cost. Carriers can organize the shipping of your car to take place at the same time as other vehicles, so that the operational cost is spread across more vehicles. However, if you need expedited car shipping, the cost will increase.  
Planning your long-distance move in advance will greatly help to reduce the cost of shipping your car. Be sure to research about different carriers and request estimates for comparisons. Reach out to our friendly team at National Van Lines for more information and a free moving quote!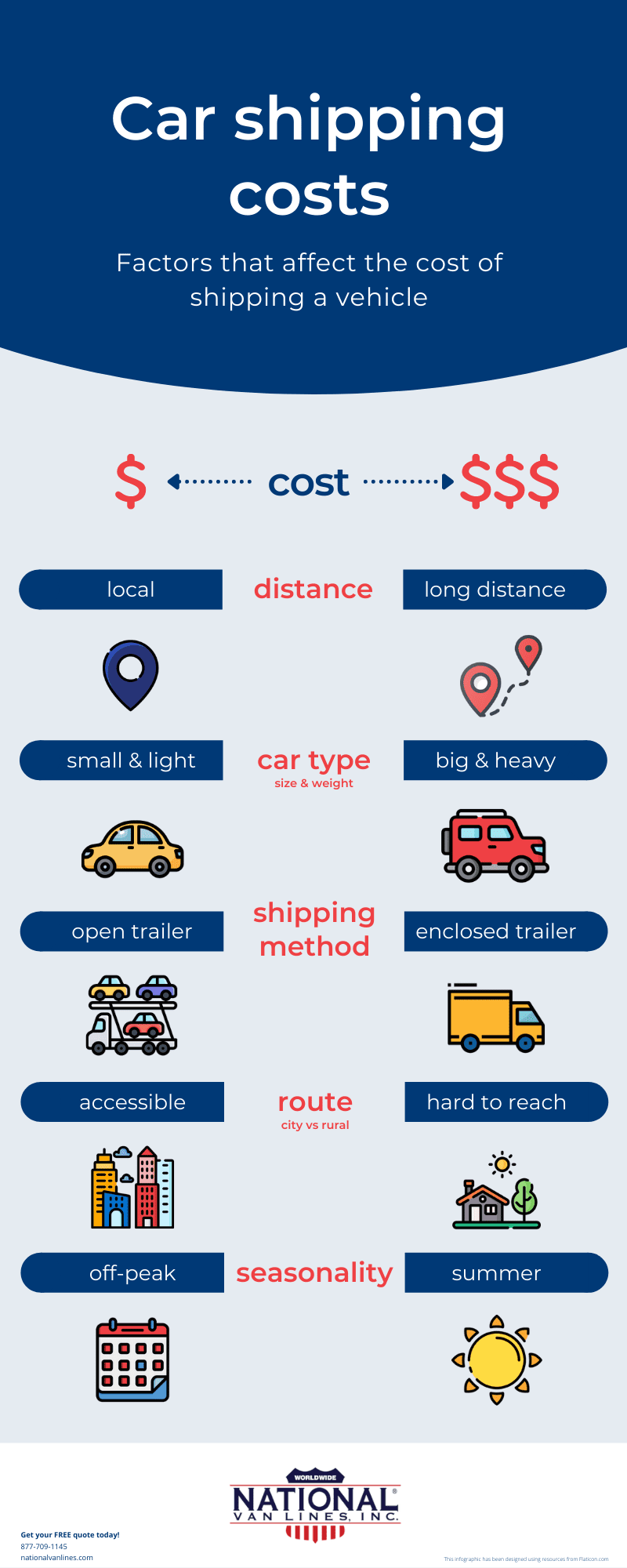 We are sorry that this post was not useful for you!
Let us improve this post!
Tell us how we can improve this post?